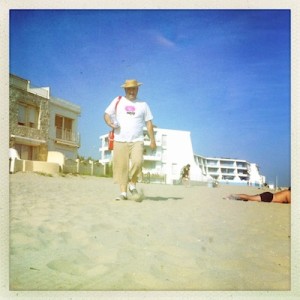 bobie (Yves Bommenel)
BIOGRAPHIE // BIOGRAPHY (En) // FILMOGRAPHY
Né en Provence en avril 1969, je travaille depuis 30 ans dans la culture. Actuellement je codirige une coopérative qui pilote un tiers-lieu. J'ai fait de la radio, organisé des concerts et des festivals, monté des magazines, créé un studio infographique et une maison de microédition, etc. Mon parcours autodidacte se construit au fil des rencontres. De mon expérience média, j'ai gardé un goût pour les formes courtes, que cela soit des textes, de la musique ou de la vidéo.
Artistiquement, j'écris sans être écrivain. Je fais des collages, sans être plasticien. Je réalise des poèmes vidéo, sans être réalisateur. J'imagine et je joue de la musique également. Quoi qu'il en soit, la poésie demeure ma voie. J'ai donc commencé mon apprentissage par l'écriture et le graphisme dans mon enfance. En 1994, j'ai commencé à jouer dans un groupe de garage punk (Mike Hey No More). Puis en 2004 j'ai découvert le dialogue entre les mots, les sons et les images en direct dans le Trio Multimédia Ana. Depuis, je me concentre sur des œuvres où le verbe explore différents supports sur scène (Printemps des poètes, BPI Pompidou, Capc Bordeaux, Jimmachine's tour in Japan, …) ou dans des dispositifs (Chevaux 2 Vent, Viral…) ou des expositions (Couper-Coller). Ces dernières années, je me suis principalement consacrée aux collages et à la poésie vidéo.
Mes créations audiovisuelles ont été présentées dans une trentaine de festivals internationaux : Angleterre, Belgique, USA, Lituanie, Ukraine, Grèce, Australie, Nouvelle-Zélande, Brésil, Espagne, Maroc, Biélorussie, Allemagne, Argentine, Japon, mais aussi en France…
J'ai obtenu par ailleurs le Coup de Coeur prix du Carnet de Voyage Numérique aux Rendez-vous du Carnet de voyage de Clermont-Ferrand pour mon poème vidéo « Sakura Yama ». Mon mini space opera poétique « Le chant éteint d'Epsilon » a également reçu le prix du meilleur film expérimental sur le festival japonais de science-fiction Blood Stained Indie Film Festival.
Pour moi la poésie vidéo est cet instant de grâce où des images transportent en musique un imaginaire en symbiose du texte en leur conférant une nouvelle poétique. Une quête perpétuelle en quelque sorte.
BIOGRAPHY
Born in Provence in April 1969, I work in culture field for 30 years. Currently I co-direct a cooperative which manages a third place. I done radio shows, organized concerts and festivals, edited magazines, created a design studio and a micro-publishing house, etc. Self-taught, my career is built over the meetings. From my media experience, I have a strong taste for short forms, whether text, music or video.
Artistically, I write without being a writer. I make collages, without being a visual artist. I make video poems, without being a director. I imagine and play music too. Anyway, poetry remains my way. So, I started my apprenticeship through writing and graphic design in my childhood. In 1994, I started playing in a garage punk band (Mike Hey No More). Then in 2004 I discovered the dialogue between words, sounds and images live in the Multimedia Trio Ana. Since, I have been focusing on works where the verb explores different media on stage (Printemps des poètes, BPI Pompidou, Capc Bordeaux, Jimmachine's tour in Japan, …) or in devices (Chevaux 2 Vent, Viral…) and exhibitions (Couper-coller). In recent years I have mainly devoted myself to collages and video poetry.
My audio-visual creations were presented in around thirty international festivals: England, Belgium, USA, Lithuania, Ukraine, Greece, Australia, New Zealand, Brazil, Spain, Morocco, Byelorussia, Germany, Argentina, Japan, and also in France…
Otherwise I got the Coup de Coeur Prix du Carnet de Voyage Numérique in the Rendez-vous du Carnet de voyage of Clermont-Ferrand for my filmpoem Yama Sakura. My mini poetic space opera « Le chant éteint d'Epsilon » was also awarded the Best Experimental Film Award at the Blood Stained Indie Film Festival in Japan.
For me, video poetry is that moment of grace in which images convey to music an imaginary symbiosis of the text, giving them a new poetics. A quest somehow…
FILMOGRAPHY
2022 90 minutes à propos des années 90 1 min 30
Make art not war festival (Portugal)
2021 Pattern noster 4 min 40
Nature & Culture – Poetry Film Festival (Denmark)
Crossings Poetic International Film Festival (USA)
REEL poetry / HoustonTX (USA)
2019 me, myself & I 5 min 51
Collaborative video poem from the artistic project "Free Your Navel"
Wipe amateur film festival (Germany)
9th International Video Poetry Festival Athens (Greece)
VideoBado International Videopoetry Festival 25 years (Argentina)
2019 Le Tigre 2 min 31
Cadence: Video Poetry Festival (USA)
2018 Le Chant éteint d'Epsilon 3 min 33
Best Experimental Film Award Blood Stained Indie Film Festival (Japan)
7th International Video Poetry Festival Athens (Greece)
FantaSci Short Film Festival (USA)
KaPow Intergalactic Film Festival (USA)
2017 La Mariposa 67 4 min 56
7th International Video Poetry Festival Athens (Greece)
2016 Une ombre vert mordoré est entrée dans mes yeux 2 min 16
Wild Whispers Poetry Film Project (England)
Swindon Poetry Festival (England) 2016 Daftar Assafar 3 min 42
Residence and exhibition "Sur les pas de Delacroix" Institut Français de Meknes (Morocco) 2016 Meknes Haïkus 1 min
Residence and exhibition "Sur les pas de Delacroix" Institut Français de Meknes (Morocco)
7th International Video Poetry Festival Athens (Greece) 2016 Fanfares' cut-up 3 min 56
2016 About love 1 min
Velcom Smart Film festival (Byelorussia)
Cyclop International Videopoetry Festival Kiev (Ukraine)
2015 Fragile 3 min 13
Finaliste Rabbit Heart Poetry Film Festival Worcester (USA)
International Film Poetry Festival Athens (Greece) 2014 Sakura Yama 1 min 52
Coup de Coeur Prix du Carnet de Voyage Numérique Rendez-vous du Carnet de voyage Clermont-Ferrand (France) Finaliste Rabbit Heart Poetry Film Festival Worcester (USA)
Cyclop International Videopoetry Festival Kiev (Ukraine)
International Film Poetry Festival Athens (Greece)
Toff (USA)
Ciné Poème Bezons (France)
Gnarled Oak online literary journal (USA) Mina 2015 (Australia, New Zeland, France) Mobgraphia (Brazil)
International Mobile Film Festival (USA)
2013 Vivre (to live) 2 min 53
Filmpoem Festival Anvers 2014 (Belgique)
International Film Poetry Festival Athens (Greece) 2013 Circulaire 1 min
Instants Vidéo Marseille (France) Tarp Festival Vilnius (Lituanie)
2013 In Nomine Pixel, 2 min 42 2013 Septentrion, 2 min 58
Liberated Worlds at Bristol Poetry Festival (UK) International Film Poetry Festival Athens (Greece)
2013 Tensui 0 min 51
2012 Ma Déchirure 2 min 59
Moving poems (UK)
2012 Raspoutine 2 min 55
2012 Dommages collatéraux 2 min 37 2012 1932 2 min 59
Vidéoformes Clermont-Ferrand (France) Viewster (USA)
2012 L'Escalator 3 min 07 2012 Rétrospectives 2 min 37
Colloque Poe/Trans/Fi Université Paul Valéry Montpellier (France) 2012 Porn count 2 min 27
Ch :Art TV event Pallant House Gallery (UK) 2012 Pixelite 2 min 05
2012 Script 2 min 16 2012 Fugitifs 2 min 53
Sinestesia Barcelona (Spain) 2012 Calaveras 2 min 55
2012 Cadences 3 min 30
2012 Coquelicœur 1 min 31
2011 RVB 1 min 46
MOVIES MADE BY OTHERS WITH MY TEXTS
2010 Géométrie voyageuse 9 min 22 ZAT "point de vue/point de vie" par David Olivari (mairie de Montpellier) 2010 Fragments 19 min 24 Carnet de voyage audiovisuel de Sylvain Duigou (Japon)
2008 Hécatombe Live cinéma Ana avec Sylvain Duigou et Laurent Rodriguez
2007 La Petite mort – A Festival Mix'o-Matos avec Sylvain Duigou et Chicken Sushi
2007 La Petite mort – B Festival Mix'o-Matos avec Laurent Rodriguez et Hallo
Some other works
Chevaux 2 Vent Visual poetry, land art
iCÔNe Live music, video and reading with Loran Qui
Gros village Short story, revue Criez !
Viral Online poetry community project
Ana illustré Visual poetry, text + computer pictures, Les Boutographies
Ana Poetry, éditions Bizarre, illustrated by Label Hélène
Hécatombe Fantastic, éditions Bizarre, illustrated by Patrick Singh
La Danse des escargots Child tales, festival d'Hasselt Belgique, illustrated by Catherine Jean
Andreas Short story, concours 3 heures pour écrire
Les Aventures de Ricardo Fender Comics, magazine El Kas, illustrated by Jean-Pascal Marron
Solar Blast, Mike Hey No More, EP vinyle (M.H.F)
Mike Hey, portrait of a lost predator Mike Hey No More, music LP + e-comics CD rom, M.H.F
Es Paro Mike Hey No More, music, LP, Be Fast !
Nuclear Girl/Sunglasses Mike Hey No More, music, EP vinyl, Polygamm rcs
Poésitron Online poem's generator, …